If you are thinking about popping the big question any time soon, there are a few things  to consider to make the process go as smoothly as possible.
First, do your homework. There are steps to take before you even set foot in the jewelry store. The sales staff will be  asking a lot of questions to help you make the best choice and you will want to be prepared. There are many choices out there, things you might not even be aware of  and the most important thing to remember is it's all about her. You want her to be thrilled, and the way to do that  is make sure you know what dazzles her.
Check out her social media. You don't know what Pinterest is, you say? Find out. She will more than likely have  at least a few diamond engagement rings on her boards that she is madly in love with. If you can snoop or get help from a friend or family  member, you can learn a lot of useful information. You might even get some ideas for the perfect proposal. Having  a picture to show the staff when you are ready to go is extremely helpful. When you are looking at a sea of rings  having something to refer to is reassuring. Like I said, there are many, many choices out there. If you  decide to surprise her and pick it out on your own, you will need some direction.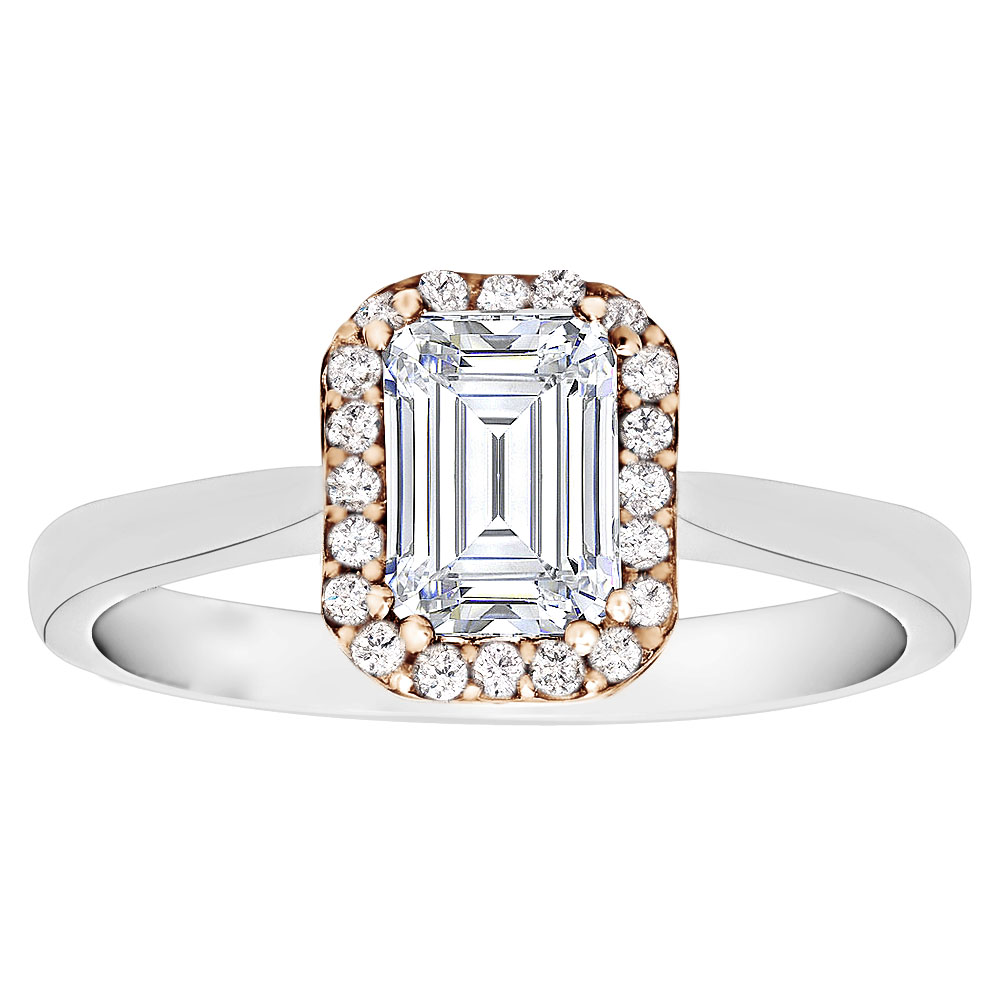 It's just a engagement ring, right? No. It's not just a ring. It's THE ring. She will be staring at it and her friends and family  will be too so what do you need to know to make it perfect? Consider these questions and you be on the right track .
What metal does she like? Platinum, white gold, yellow gold, or rose gold are all possible options. Don't make  assumptions, find out. It might not be obvious. Just because she wears silver all the time doesn't mean anything.  Sometimes a bride has been dreaming of her ring since she was a little girl. Do yourself a favor and listen when  she talks about wedding stuff. Chances are, someone you know is getting married and there are a lot of opportunities  to hear her opinions about what she wants for her special day.
What shape diamond does she want? There are many other shapes besides round brilliant cut. Princess, which is square,  oval, pear shape, emerald cut, the list goes on. Again, she probably has strong feelings on this. It's just as  important to her as the quality of the diamond. It's also helpful to get educated about the 4 c's,  Carat (weight), clarity (inclusions), color (whiteness), and cut (proportions). The sales staff at Brian Michael's  Jewelers will explain all of that when you are shopping. All of these factors affect the price of the diamond.
Pure Lab Grown Diamonds are also available now. These exciting diamonds (and they are real diamonds) are grown  in a lab instead of mined from the earth. Rare, beautiful, sustainable and certified, these diamonds are an excellent  choice in a world where conflict-free is important. All at a cost which is significantly more affordable than  traditional mined diamonds. It's worth checking out.
What style of ring does she like? She may prefer something traditional, modern, simple or very detailed. Here is  another instance where a picture is extremely helpful. the staff at Brian Michael's Jewelers will be able to look  at the pictures and pick up on details you may not have noticed. We are trained to cover every detail so you look  like the expert. Remember, it's good to gather your info before you shop but keep in mind, bringing in too many people  may get confusing. Everyone has an opinion, but try to limit it to the people who will be conscious of what the future  bride likes, not just what they like.
How are you going to pay for this? I know it seems simplistic, but its a good idea to know ahead of time how much  you can afford and if you will pay cash or use credit for all or part of it. Many places offer financing and if  you want to take advantage of it especially if you are offered no interest or interest deferred it may make a difference  what you pick for her. A chance for an expanded budget by using sensible credit may be just what you need to feel  comfortable with your selection. Not to mention, it opens up your choices to get her what she really wants. And isn't  that what you really want? Do you want her to be dazzled and completely blissful every time she gazes at the ring?  Do you want her to think of you and smile every time she admires it and shows it off? Trust me, you do.
Brian Michael's Jewelers